Lighting is one of the most difficult design concepts to understand. It's all around us, but we cannot touch or feel it, yet it is responsible for all that we could see. Without lighting, we could perceive nothing. Proper light beams separate light from shade but also balance them in harmony.
In this post, we'll talk about some valuable ideas and advice for excellent home lighting.
Kitchen Lighting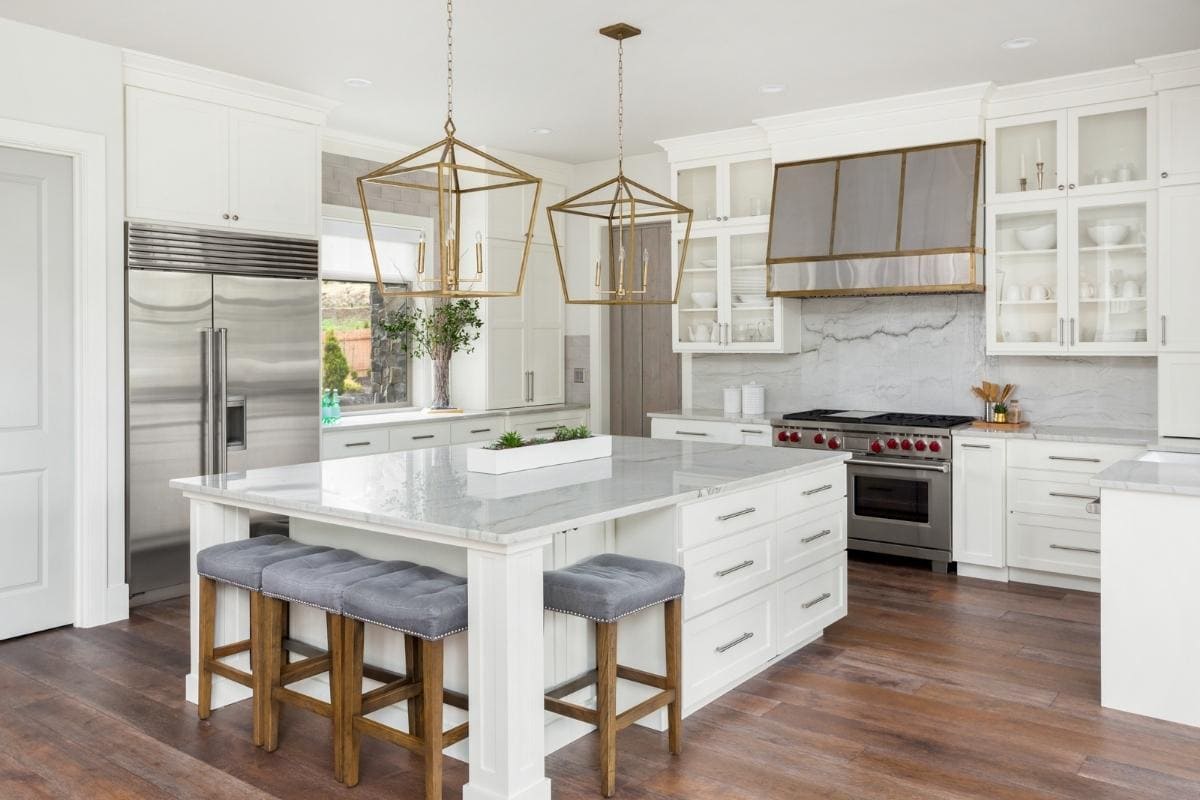 Kitchen lighting requires a flexible scheme because a kitchen is often the center of family life, as well as being the place for cooking and preparing food. Task lighting in a kitchen is as important as the general lights. Usually, there are two main lighting types in a kitchen: under cupboard lighting and a central island. The most effective and attractive kitchen lighting technique is to use recessed downlights arranged regularly with wide beam lamps.
Kitchen Lighting General
To reflect the wide range of functions that kitchens must fulfill, the kitchen lighting design should be flexible. It should adapt from a bright, general light for the day as a supplement to daylight, to an intimate light in the evening. As with other rooms in your house, the first thing to consider is the general light.
In the past, bare fluorescents were often chosen as they provided a bright, diffuse light, which created little shadow. However, as well as being unattractive, their light can be too harsh for kitchen lighting in the evening.
Kitchen track lighting has often been used in kitchens but is usually positioned wrongly in the center of the room, directing light at the kitchen worktops. If your kitchen were purely for show, this would be fine. But as soon as you work at a counter, your body is positioned between the light and the surface, which creates a shadow. The kitchen lighting track therefore needs to be located much closer to the work surface, no more than 1m (40in) away from the cupboards. More than one track will usually be required to light a kitchen adequately, and the layout of the room may even call for a square arrangement of kitchen lighting tracks.
A small, galley kitchen is the only occasion where the central track method can be used successfully. It will automatically be close to the kitchen cupboards, and the light will shine over your head at the cupboard doors, with the reflected light bouncing off to light all the kitchen worktops. An alternative to the kitchen lighting track is a wired system. These cables appear almost invisible, and the individual bulbs can be adjusted along them to light as required.
Lighting in kitchens with low ceilings, spotlights, and tracks may be unsightly, and too much heat may be emitted from the bulbs themselves. Fluorescent sources can be used, but you will achieve the best effects by reflecting light off other surfaces. With a high ceiling, it may be possible to conceal a fluorescent lamp on top of the cupboards to create a successful general light reflecting off the kitchen ceiling. However, using fluorescents directly as kitchen lighting can instill the atmosphere of an industrial kitchen rather than a domestic one. Their other main disadvantage is their poor quality of light compared to tungsten halogen. Fluorescent has a flat quality, which gives an excellent working light but does not bring out the best in surface finishes. So all in all, use warm color LED bulbs for the best performance.
The choice of the color of the bulb is also important: a cool, white light can appear too harsh while warmer lights can appear slightly 'dirty'. Fluorescent kitchen lighting is difficult to dim and so at night can be too harsh. If you are certain you wish to use fluorescent and would like to be able to dim the lights, you will need to power them with high-frequency, dimmable ballasts which can be expensive. LED bulbs are far easier to work with a dimmer, and if you are not obsessed with fluorescent bulbs, go with LEDs instead.
Tungsten halogen fittings can be used as uplights to provide the general kitchen lighting, and they are easier to dim than fluorescent fittings, but far less energy-efficient. Whichever you use, you will almost certainly require some form of task highlights, possibly over a central island or under the kitchen cabinets.
The most effective and attractive kitchen lighting technique is to use recessed downlights arranged regularly with wide beam lamps. As well as being much neater than a surface-mounted track and spotlights, they are also less susceptible to the gathering of grease, dust, and dirt of a surface spotlight. The usual mistake, however, is to position the downlights in the center of the room so that they focus on the floor rather than on the perimeters of the kitchen. Without good task lighting, the perimeter work surfaces will be poorly lit and, because the units themselves are not lit, the walls will appear dark.
Kitchen Task Lighting
Kitchen task lighting is affected by the design of modern kitchen units using natural materials or painted decorative finishes. It is best to direct the light at the front of the cabinets and units to give reflected light to your kitchen work surfaces. This has the benefit not only of directing kitchen lighting where it is required but also making the kitchen appear brighter as all the vertical surfaces are lit. The neatest downlights are low-voltage, and they have the added benefit of providing a daylight quality to your lighting, which can be very important in a basement, yet when dimmed, will provide a much softer light.
Usually there are two main types of kitchen task lighting: under-cupboard lighting and the lighting of a central island. Under-cupboard lighting normally falls into two categories: LED striplight and low-voltage LED lighting. LED striplights are quite flexible and can be stuck anywhere you wish. A low-voltage under-cupboard fixture is also a good solution. They are bright and crisp and can also provide a candle-like quality when dimmed and prolong their lamp life. The central island of a kitchen often needs additional task lighting. This can be achieved with an arrangement of downlights above it, controlled independently from all other lights in the room. Alternatively, if a hanging device for pots and pans is positioned over the island, downlights can be incorporated into this. It is best for the lighting to be located within the hanging device itself to avoid the possibility of shadows. Pendants will provide an unusual decorative effect as well as a soft-focus of light over the island.
Bedroom Lighting
Lighting in bedrooms requires effective task lighting, which is necessary for nighttime reading and around dressing tables. The general lighting needs to adapt to every requirement of the changing seasons: on a dark winter morning, low-voltage bright lights will provide early risers with a feeling of get-up-and-go.
When the general and feature lighting is decided, the task lighting must be considered. For a dressing table, you will achieve the most flattering facial light by placing lighting on either side of the mirror. It is important that the shades are not colored so that a natural light will be thrown onto your face.
Bedroom Lighting General
When designing a lighting scheme for a bedroom, it is essential that each of the chosen effects is easily adjustable according to the mood you wish to create or the brightness of light required. As the bedroom is the last room you see at night, you will need lighting that can bring a relaxing atmosphere, such as task lighting for reading and dressing. Meanwhile, it's also the first room you see in the morning, and a refreshing light is needed to wake you up from a good sleep.
If your bedroom has a fairly low ceiling, when used in conjunction with table lights, downlights are very effective for providing a general wash of bedroom lighting if they can reflect their light to the walls and floor. If you don't need much of a bright light, a well-positioned table lamp is usually more than enough. This would normally consist of four fixtures, two on either side of your bed and one or two on a chest of drawers or desk. In addition, you could place a standard lamp behind a chair. If your ceiling is high, however, you could consider uplights, using wall-mounted fixtures. Floodlights can be located on top of cupboards to create an almost invisible source of bright uplight, reflecting off the ceiling.
Feature Bedroom Lighting
With feature lights, unusual effects can be achieved within a bedroom. Some can be soft and subtle, and some dramatic at night. You can achieve a beautifully soft glow by placing a linear light under the bed so that the bed itself, in the center of the room, will seem almost to float. A similar effect can be achieved by lights under the bottom of shelves, particularly if the shelves are in a recess.
Other dramatic bedroom lighting effects include a 'star-lit' ceiling made by small fiber-optic heads, only slightly piercing the ceiling and giving the impression of sleeping out under the stars. When these are switched off, the ceiling appears no different from any other but, at nighttime, with the lights on, it gives the effect of numerous small stars. More familiar feature light effects also work well in bedrooms and may be appropriate with the style of room and decoration. You could possibly light a picture, either over the bed or over a fireplace if you have one, use uplighting under a bay window to highlight your curtains, or choose favorite ornaments to become your focus.
Task Lighting for Your Bedroom
When the bedroom lighting general and feature lights are decided, the task lights must be considered. For a dressing table, you will achieve the most flattering facial light by placing lights on either side of the mirror. An ideal solution is to use two separate lamps. It is important that the shades are not colored so that natural light will be thrown onto your face.
An efficient reading light is essential in a bedroom. The ultimate in-bedroom task lights, used in conjunction with bedside table lamps, is the fiber-optic light. This is fixed to the wall at shoulder height and provides a completely flexibly positioned bright bedroom reading light. The fiber-optic lightbox would be located under the bed. A more traditional source of bedroom reading light is table lamps on either side of the bed, but they must be placed in the correct position if eyestrain and awkward body positioning are to be avoided. If lamps are located on a bedside reading table, the light is often in the wrong place, almost forcing you to lean out of bed to read. You need to achieve the right balance between the size of the lamp and the height of the table. If the bedroom table is too high, the glare of the lamp will shine into your eyes, and the spread of light will be too wide. The ideal height for the base of the shade is at shoulder level when you are sitting up in bed. An alternative to table lamps is an adjustable bedroom wall light on an extendible bracket with arm extensions. As this is wall-mounted, you can control the precise height and position of the lamp, but you will need to know the height and size of the bed before installation.
In most bedroom lighting, you will need at least two switch lines to control your different light sources: one for bedside lamps and one for other lamps. If you are using either uplights or downlights, these will need a third switch. With a double bed, it may be easier to control each bedside light individually, which will add another switch line. 3-way switching to the bedside works well, as all lights can be turned on and off from the bed. A dimmer, either by the door or at the side of the bed, will give easy control. A motion sensor switch is also an excellent option, releasing your hands free from touching the switch again.
Bathroom Lighting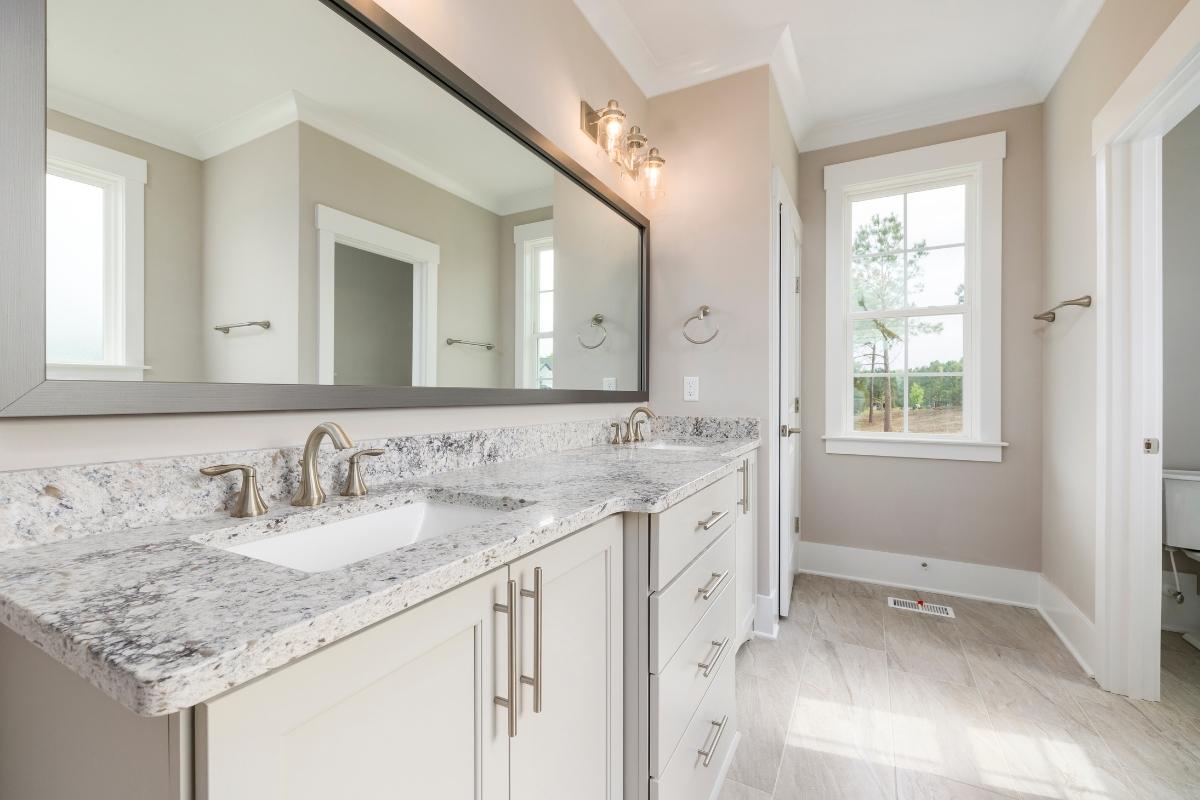 Lighting in a bathroom usually excludes much natural light. Bathroom lighting design needs to complement the style of the room and be flexible enough to change from bright and refreshing in the morning to a softer, more subdued ambiance for evening baths.
Bathroom Lighting Location
Bathroom Lighting location is crucial, partly because of the potential safety hazards, but also because many surface finishes are very reflective. Crisp, low-voltage bathroom lighting reflects particularly well off these surfaces, and its success has given rise to a range of new bathroom lighting techniques. Instead of a regular grid of downlights in the bathroom's ceiling, you could consider locating the lights directly over your basin and bath. When they are filled, a wonderful pattern of rippling water will be reflected across the ceiling. If you do not want downlights directly overhead and the bath is against a wall, you could position a series of small low-voltage downlights in the bathroom's ceiling, approximately 100mm (4in) from the wall. This will create a beautiful scalloped pattern, suggesting water streaming down the tiles, and is also a good way of lighting a shower unit.
Bathroom lighting underneath the bath, can make it appear almost to float. A soft rope light, concealed beneath the bath surround, will give a continuous soft, even glow and could almost be used as a nightlight because of its low brightness. Alternatively, a small spotlight could be recessed around the base of the bath to skim out across the bathroom floor in strong shafts of light. This is a dramatic effect, which can look magnificent. To successfully achieve this lighting effect, it is essential that you use a fully sealed low-voltage baffled light of no more than 12w 12v. Any higher and the heat of the fitting could scald your feet.
If your basin is made of glass, recessing an uplight below it creates a stunning effect, making the bathroom basin appear to be lit internally. This will need to be balanced by a downlight, or your face will appear rather ghostly. The uplight should be fully sealed and the beam of the lamp wide enough to ensure maximum coverage of the glass bowl itself.
If you control each bathroom lighting area separately, it will be more adaptable to your changing needs in bathrooms. Dimming your lights will make it work at all times of the day from the 'full on' effect in the morning to the soft, subdued effect in the evening, which you may wish to combine with candles. The position of dimmer switches depends on the local regulations of the country and should be checked before wiring. Before planning any work, it is best to consult a professional electrician regarding safety regulations.
Bathroom Lighting Features
Bathroom lighting must be specially made for wet places and sealed in covers to protect them from steam. High voltage bathroom lighting should only be operated by pull cords or from outside bathrooms. Track lights should never be used for bathroom lighting due to the danger of moisture coming into contact with exposed wiring. Low voltage bathroom lighting can be used safely so long as bulbs are enclosed and sockets are double insulated.
The best bathroom lighting is daylight. To make the best use of this bathroom lighting, place bathrooms basins near the window of bathrooms. Natural bathroom lighting gives a much more realistic idea of skin tone and color. No matter how good the natural bathroom lighting, it will need to be supplemented by artificial lighting for tasks such as shaving or other tasks that require closer scrutiny.
Artificial bathroom lighting comes in two main types, which are bright and stimulating for clear vision and soft for relaxation. Achieving a balance between these types of bathroom lighting requires good planning. It is a good idea to have two circuits with dimmer switches, and some of these can be programmed so that to achieve your preferred bathroom lighting, all you need do is touch a number.
To begin with, in bathrooms, you should designate a central ceiling area for functional light that you turn on when you enter the bathroom. Recessed downlights are good for bathroom lighting when the ceiling is low. You need to position bathroom task lighting for shaving, makeup, etc. This should be targeted over the bathroom mirror, and this type of lighting needs to be even and shadow-free. The best type of bathroom lighting for this is a LED or fluorescent tube or two well-placed and well-balanced side lights. Some mirrors for bathrooms have their own built-in lighting and some fluorescent lights have shaver sockets.
Target bathroom lighting might also be useful where a lavatory or shower is in a separate cabinet or recessed behind a wall lacking light. These range from period inspired lights with opal glass and chrome to central bathroom lighting sets with arms which can be arranged to make an interesting design. Bathroom wall lighting can be round, oblong, diamond shaper, or square, and you may find that bathroom lighting with an opaque glass finish gives a softer, more diffuse light than other glass.
Bathroom lighting with bulkhead fittings like those on ships are watertight and have nautical overtones that can enhance the practical mood of industrially inspired bathrooms. Bathroom lighting for close scrutiny needs clear or plain glass fitments for effective lighting.
After an energetic stint in the bathroom with all lighting blazing, you may want to transform bathrooms into a tranquil haven. This can be done by switching off the central lighting and dimming the outer perimeter bathroom lighting. Experiment with different combinations until you find the one that is most relaxing for you.
Spa and whirlpool bath lights provide some bathroom lighting, which allows the inside of the bath and the swirling water to become the focal point of the bathroom where the ambient lighting has been dimmed.
Some bathroom lighting can be recessed into the floor, which can create pools of light-up walls, in corners or beside steps leading up to a raised bath. This type of bathroom lighting is not advised for the main floor areas. Spotlights in bathrooms can be mounted secretly behind a shelf to highlight particular areas. However, this needs to be more intense than other bathroom lighting.
Bathroom lighting can also be created by the use of candles, especially scented ones, but they should be carefully placed so as not to cause a fire. Placing them in front of a mirror can enhance the effect. Candles are romantic when lit but beware of the aftereffects if you wish to use candles as bathroom lighting, try to find the smokeless variety. A chandelier can also add a touch of decadent bathroom lighting, and the play of soft, muted light can create rainbows.
If you need to change a light bulb, ensure the area around the light is dry. Check that the floor of bathrooms is also dry if you are using steps. Obviously before you start, check that the power is off.
Living Room Lighting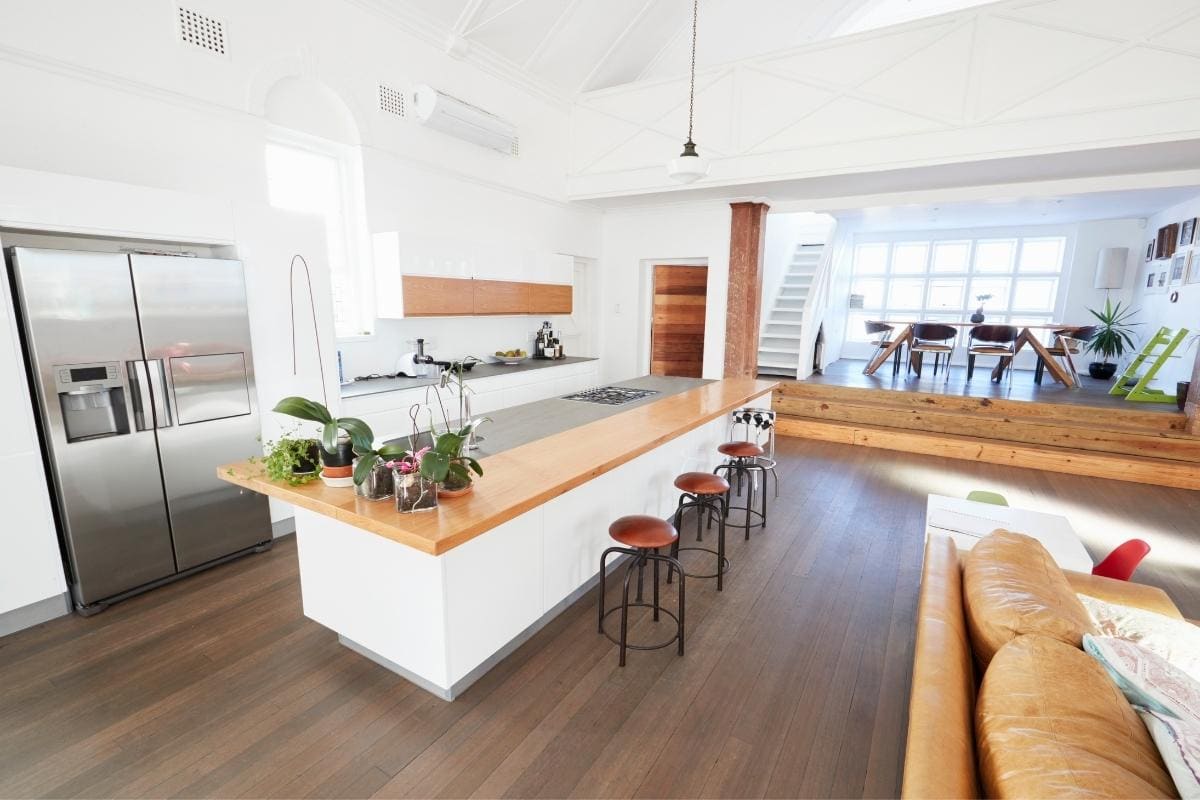 The lighting should be an integral part of the design, whether your living room is traditional or contemporary, offering discreet solutions, which are flexible enough for every activity. In a dining room, the light should be bright, fresh, and appealing at lunchtime and soft and subdued at night, allowing enough light on the table while avoiding harsh shadows on diners' faces.
Living Room Lighting General and Task
Living room lighting must adapt to suit different moods or functions in rooms that are in regular use throughout the day and evening.
Successful living room lighting depends on the general, feature, and task lighting working in harmony, in the same way that fabric colors and textures are chosen as part of the interior design. The solution you choose will depend on your style of decoration. By varying the levels of these individual effects, and by using different combinations, you can create both dramatic impact and the perfect light setting for every activity.
Although a single, central pendant may complement the style of the living room, the light it produces will be flat and dull. Used as a decorative feature, however, they do have their place as a focal point in the center of a room. To provide general living room lighting, they can be supplemented with further sources of light around the room, such as an arrangement of table lamps or wall lights.
Table lamps can be positioned anywhere within a living room: to provide lighting and eliminate darkness around the edges, reduce areas of shadow in the center, or act as living room task lighting for reading when located next to chairs and sofas, which will introduce a second layer of living room lighting. It is advisable to install floor sockets in the center of the living room to give yourself more flexibility in choosing where to place lamps, and also to eliminate the problem of cables trailing from sockets at the edge of the living room to your lamp. Although they are an easy option for a living room, using too many lamps may give your living room the appearance of a lighting shop, and so you should combine these with other light sources.
Living room downlighting, from fixtures installed in the ceiling or underneath cupboards, can effectively create good overall living room lighting. In contemporary settings, the general living room lighting is often achieved through methods other than pendants and table lamps. If you choose this technique as part of your scheme, mains-voltage fittings could be used, but they are somewhat bulky, so it may be better to opt for the low-glare, low-voltage alternative. Another advantage of low-voltage downlights is their crisp, white light. On a gloomy day, their brilliant lighting makes it seem as if the sun is literally shining in, making them particularly useful in living rooms that receive little natural lighting.
Downlights are also very useful for adding lighting into the center of a living room, an area that can sometimes be forgotten. They can be directed onto a decorative object to work as both general and feature living room lighting. Downlighting placed directly over seating areas creates effective reading lights, but can cast distorted shadows of light across you when seated. If this task light is required, it would be useful to have the option of dimming the light to create a softer effect when entertaining.
Uplighting is a good solution for contemporary living rooms as most uplights are of a modern design. Low-level, drum-shaped uplighting, either mains or low-voltage, can be hidden behind a piece of furniture to light the corners of a living room, or provide lighting in a bay window which appears dark at night. When positioned under plants, these uplights provide an interesting pattern of light on the walls and ceiling and will contribute to both the general and feature lighting. A free-standing uplight will provide a high intensity of light in rooms when required.
Wall washing can be used to softly illuminate plain walls as an addition to general living room lighting, or to highlight a favorite piece of art. Both effects can easily be achieved in your living or dining room by using an array of downlighting positioned in the ceiling between 50-100cm (20-40in) away from a wall, depending on ceiling height, and 1m (40in) apart. This works best if wide beam bulbs are used, possibly with a frosted cover lens. The brightness of this lighting may overshadow more subtle effects if it is not balanced by other areas of light on the opposite side of the room.
Feature Living Room Lighting
Having set the scene with the general and task living room lighting, drama and contrast can be introduced through feature lighting. Some of the choices you will have made for your overall living room lighting scheme may offer some feature lighting, but additional effects will add focus to chosen objects or specific areas of the living room. Flowers on a coffee or dining table can, for instance, be illuminated with a narrow beam of light, which will bring out the best in the flowers and create a central focal point in the room, making it appear more intimate.
High lighting the architectural features of a living room, for example large open fireplace or an arched doorway, can create drama. In a room with columns, you can achieve stunning effects with living room lighting recessed into the floor and positioned close to the column bases, as the lighting will graze up the side and produce a dramatic focus at the top.
The lighting of an alcove, shelves, or cabinet can be another form of focus and feature in a living room. The easiest method of lighting shelves is to use a LED striplight behind a baffle, which conceals the source. There are, however, one disadvantage with this method: the bulky size of the lighting fitting requires large shelf sizes to conceal the source. An alternative solution is to use candle bulbs, and although several individual bulbs are required, they are cheaper than a single light strip and last much longer.
Low-voltage under cabinet lighting systems, however, usually achieve the best results. They are smaller and therefore can be concealed living room wall lighting within slimmer living room shelves. They normally consist of a small track system, or click strip, so that bulbs can either be arranged uniformly along the length of a shelf or in clusters to light specific objects. They do require a remote transformer and can get hot, so they should not be used near books. To light a bookshelf effectively, a simple mains-voltage rope lighting can be used, as it offers a soft light, is fairly small, has a long lamp life, and does not get too hot.
Three-dimensional objects, like pieces of sculpture, offer the greatest canvas for dramatic schemes. When any object is lit, the most important factors are the direction of lighting in the living room and the play between light and shadow, as distortions can result if the proportions and placing are not right. You also need to take into account the position from which the object will be viewed. Depending on the shape of the sculpture or ornament and the features within it that you wish to highlight, you can choose whether it should be uplit, downlit, or backlit. If you want to install your living room lighting before the piece to be lit has been chosen, cross light will be the safest option, as it allows you to throw light from both sides.
Home Office Lighting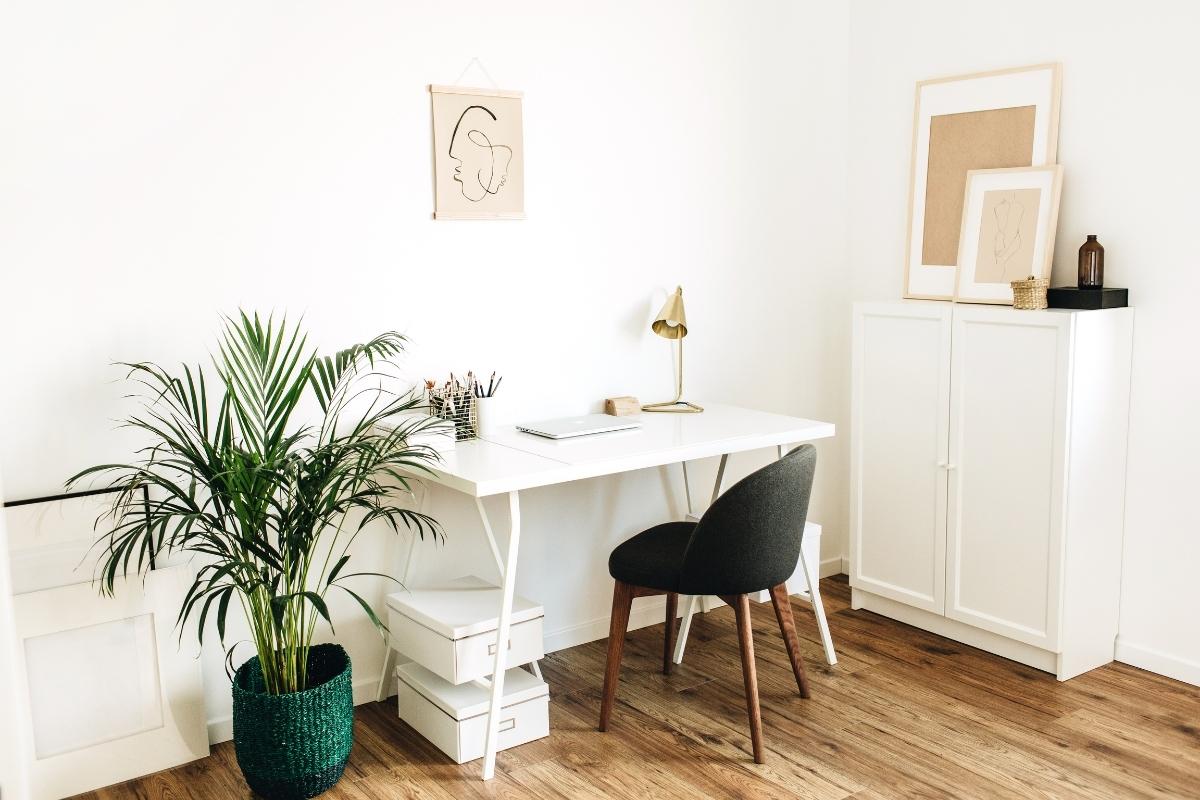 More and more people are now working from home, either from a desk area in the corner of a living room or bedroom or in a separate office. Working for long periods of time, particularly on a computer, demands specific lighting solutions so that the right environment for focused work is created, and headaches and eyestrain are avoided. If the workspace is part of another room, then flexibility is essential.
Unlike most other rooms, when lighting a work area, the most important requirement is an effective task light. A successful balance must be achieved between this and the general lighting to avoid eyestrain, which can result from the contrast between a well-lit surface and dark surrounding walls, or if too much light is reflecting onto a screen. Feature lighting is not essential but will be effective in creating more atmosphere in a room where you have to spend time and could be used to highlight a bookshelf or a picture.
Home office task lighting could be provided by a desk lamp. Or if you have shelves above the desk, you can fix the lighting onto or underneath the shelves. Desk lamps and those fixed to shelves offer a degree of adaptability as the direction of their light beam can be adjusted. A movable light would work very well if a computer is to be used, since the amount of light and any reflection on the screen can be fully con­trolled. Whichever solution is chosen, the task light should, if possible, be on a separate switch from all other sources in the room so that it creates a focus on the work area only.
General home office lighting is probably most efficiently provided by a free-standing uplight, which will create a soft, diffuse light without casting problematic reflections on the computer screen. These reflections can occur when using downlights in your overall scheme.
If the office has shelves, further office lighting sources can be employed. If there is a gap of at least 600mm (24in) between the top shelf and the ceiling, an uplight could be incorporated above the shelf. If the gap is smaller than 600mm (24in), a continuous source, such as overlapping fluorescent tubes or striplights, will be more successful than an uplight, which would create a hotspot of intense light on the ceiling rather than provide a general wash over the room.
Low-voltage home office track lighting, if you have a whole wall of shelving or a library, will give enough light for you to see every book on each shelf. Alternatively, traditional library lights can be employed. Sometimes also called French library lights, these are usually wall-mounted on brackets, and can have one, two, or three arm connections depending on the extension and versatility required. Originating from the idea of a candle on a vertical pole, with an arm extension so that the lamp could be shifted upwards or sideways, they offer a focused light that can be moved across the shelves. The electrical versions provide the same versatility for both contemporary and traditional interiors.
Lighting Sources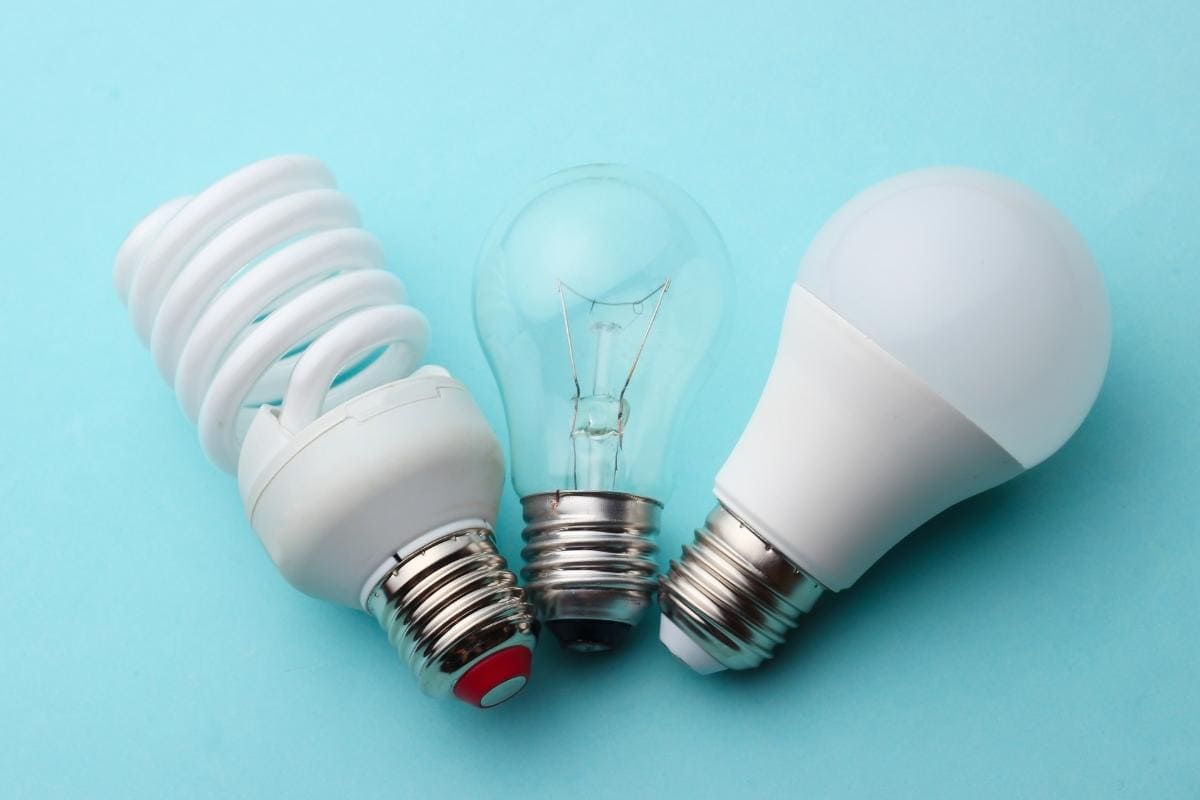 Light is all around us, but we cannot touch or feel it, and yet it is responsible for all that we see. Without light we perceive nothing.Good lighting stems from an understanding of the balance between light and shade. In simple terms, lighting is the presentation of space. When used skillfully, it provides the final invisible touches to your design. Artificial light thrown onto the surfaces of a room from different heights and angles will change its apparent dimensions. It can emphasize height, structure, and materials and become almost an architectural element itself.
Lighting will set the mood whether your interior is traditional or contemporary. Good lighting should enhance your interiors and provide a wonderfully creative environment without obviously doing so. Put another way, good lighting should not even be noted.
Back in the day, lighting has endless varieties of sources. The main sources used within the home were tungsten filament, tungsten halogen, both mains- and low-voltage, and compact fluorescent. Others, such as discharge sources, metal halide, and sodium, had a delayed start up and are not easy to dim. For this reason, they were used mainly in commercial situations, although they are sometimes useful in gardens to light up large trees and to provide a light source for fiber optics.
LED
In 2020, 47% of US homes use LEDs for most or all of their indoor lighting, according to the most recent reports from the Residential Energy Consumption Survey (RECS), which is completed in 2020-2021 and published in 2022. Also, with incandescent bulbs getting banned soon, we can see, in the near future, the majority of homes in the US will be using only LED as the main lighting in their homes.
LEDs have so many benefits over other old-fashioned light bulbs. They don't produce much heat, don't contain toxic mercury that damages the environment, and they are so much more energy-efficient than incandescent bulbs. Not to mention that they are much cheaper than years ago, so the price gaps are not a problem anymore. Most of the time, you can buy a solid LED light bulb at a lower price than incandescent and CFL bulbs, which can provide decent illumination for years without a problem.
LEDs are already the main light sources for now and will dominate the light bulb market in the future, but let's rewind and have a look at the light sources which were popular in the good old days. And more importantly, there are still 10% to 20% of homes that keep using them.
Lighting Tungsten Filament (Or Incandescent)
This is the standard bulb in most table lamps and is available in a variety of shapes and sizes. Electricity passes along the tungsten filament, heating it so that a mixture of light and heat is produced. The resulting light is warm and inviting, which is effective in the evening but can look unnatural and insipid during the day. For best results, this type of light source should be combined with others so that a different balance is achieved between light levels for daytime and evening.
Tungsten Halogen
This bulb contains a tungsten filament as before but is surrounded by a halogen gas. The halogen combines with the tungsten to provide a far whiter and brighter light than the equivalent tungsten. It is often used for uplighting. The tungsten halogen linear fixtures (200-300 watts), whether wall-mounted or free-standing, can be the perfect solution to the general light for a room with an ornate or sloped ceiling or unusual shape. The conventional tungsten halogen lamps work very well as uplights, giving a white light and, with their high wattage, a correspondingly high level of illumination.
Low Voltage Tungsten Halogen
Low voltage means that a bulb fitting operates at 12 volts rather than the usual 120V. The advantage of 12V is that the filament in the lamp can be manufactured much smaller, which results in a more discreet light source, which can still control the light efficiently. The spread of light is determined by the position of the filament within the reflector. If the filament is in the wrong place, dark spots can appear in the light beam. Low-voltage bulbs particularly lend themselves to feature lighting: they enable very precise control and provide an attractive white light because of their halogen gas. To reduce the voltage from 120V to 12V, a transformer is required. If an electronic transformer is used with downlights, it can usually fit through the aperture of the fitting and rest in the ceiling alongside the fitting. If maintenance is required, the transformer can be pulled out of the ceiling through the hole of the fixture itself.
Lighting Techniques
There are six main lighting tools: downlights, uplights, wall washing, feature lights, color, and controls. These fall within the overall divisions of general lights, task lights, and feature lights.
Downlighting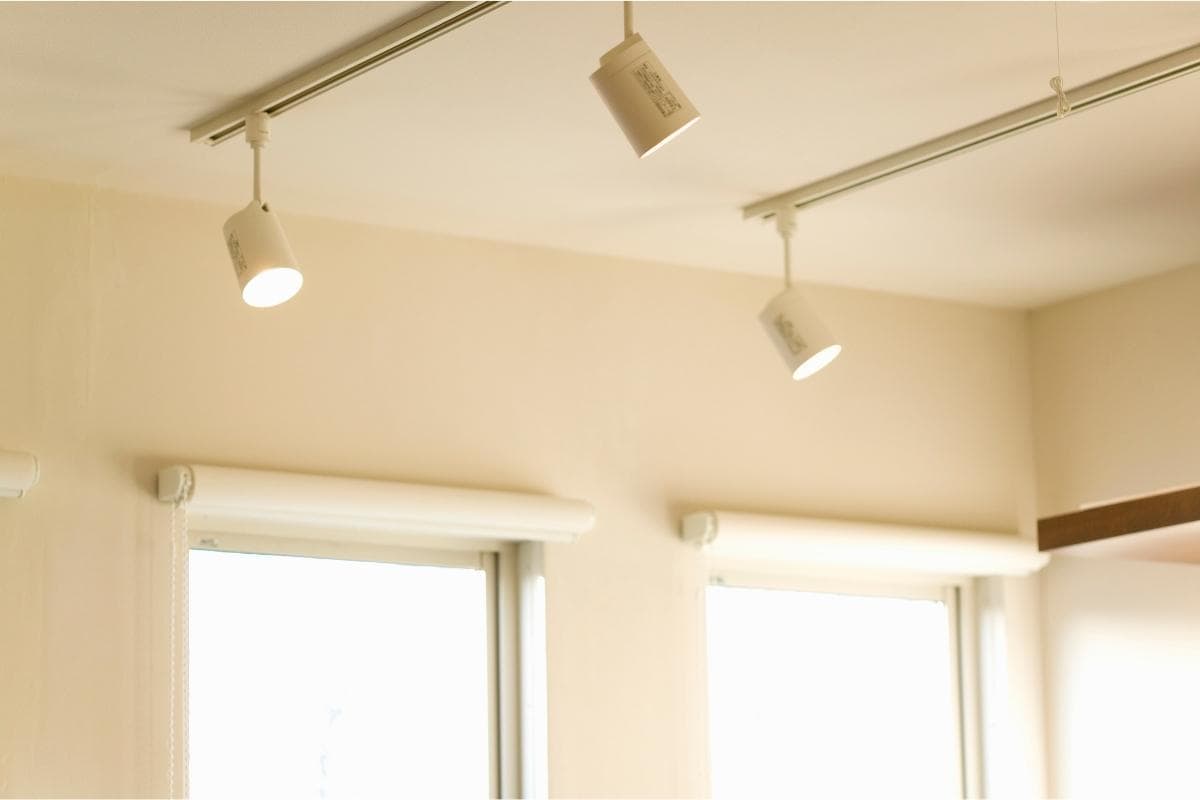 Of the modern approaches to lighting, downlights are possibly the most conventional. It is direct and generally energy-efficient, as it concentrates the lighting in the specific area where it is required. Downlights, usually recessed into the ceiling, form a three-dimensional cone, or arc, of light which will vary in size depending on the beam angle. If you concentrate downlights within the center of a room, the cone of light will not spill onto the wall and create unwanted 'arcs' of light. Downlights are often used imaginatively, but excessive use of them in this way can make a room appear gloomy, as the floor is well lit while the walls and ceiling remain in shadow. In these instances, some light on the walls may be desired.
Uplights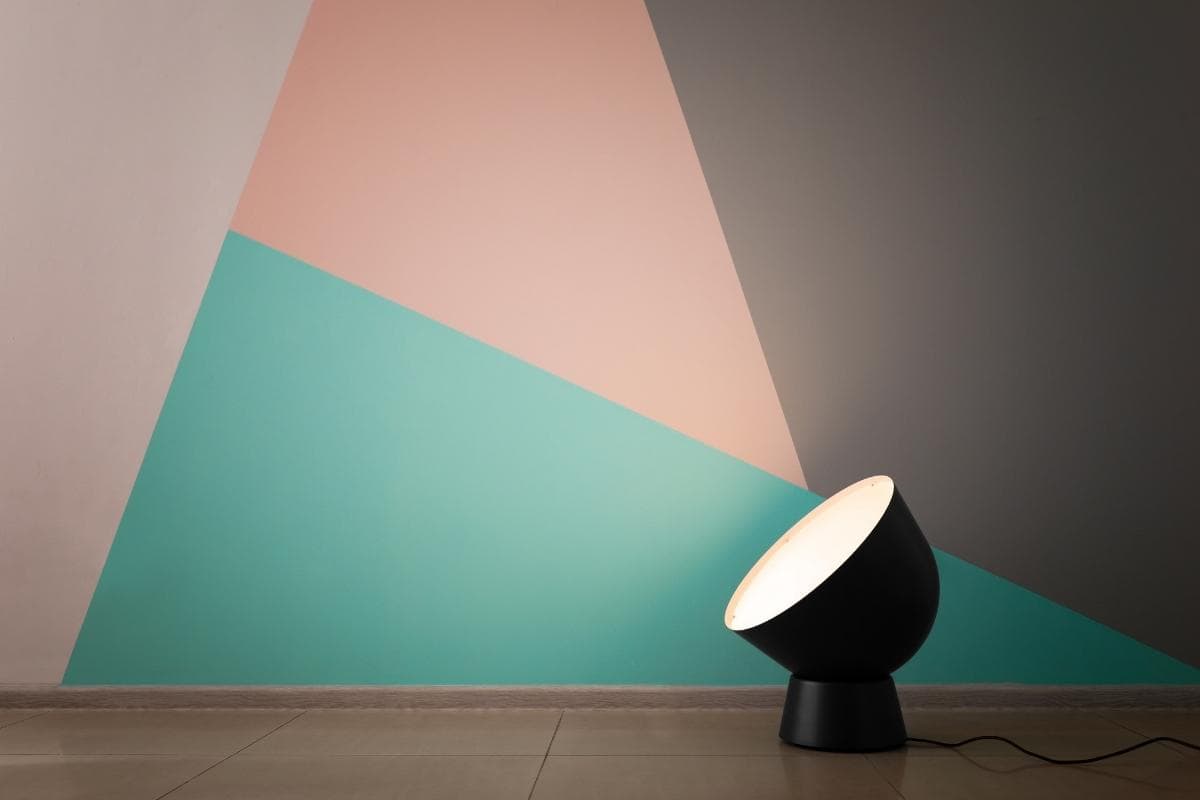 Uplights enhance a sense of height, making a room appear more spacious than it is. The principal purpose of uplights is to direct light up at the ceiling, which acts as a reflector. If your ceiling is light in color, this will provide a very diffuse, general light while creating a sense of space. Uplights offer more flexibility than downlights: they can be wall-mounted or free-standing, high or low level, and are available with a wide number of different bulb (lamp) types. Ideally, uplights should be positioned in pairs to give a sense of symmetry.
Wall Washing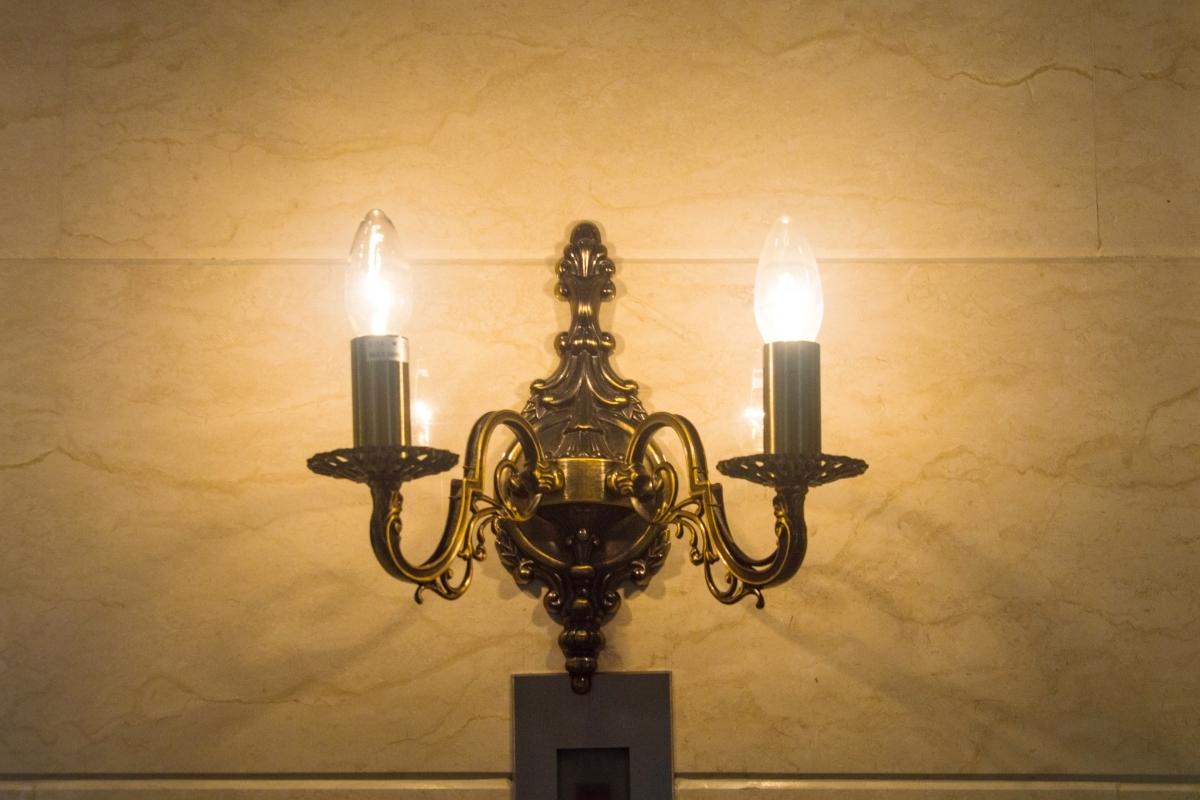 These are ceiling-mounted fixtures, which direct their light evenly across a wall and can provide part of the general light. Unlike downlights and uplights, wall washers emphasize the vertical surfaces in your room and are especially useful in enlarging the perceived width of a room. As with other techniques, the brighter the color of the wall, the greater amount of reflected light
Feature Lighting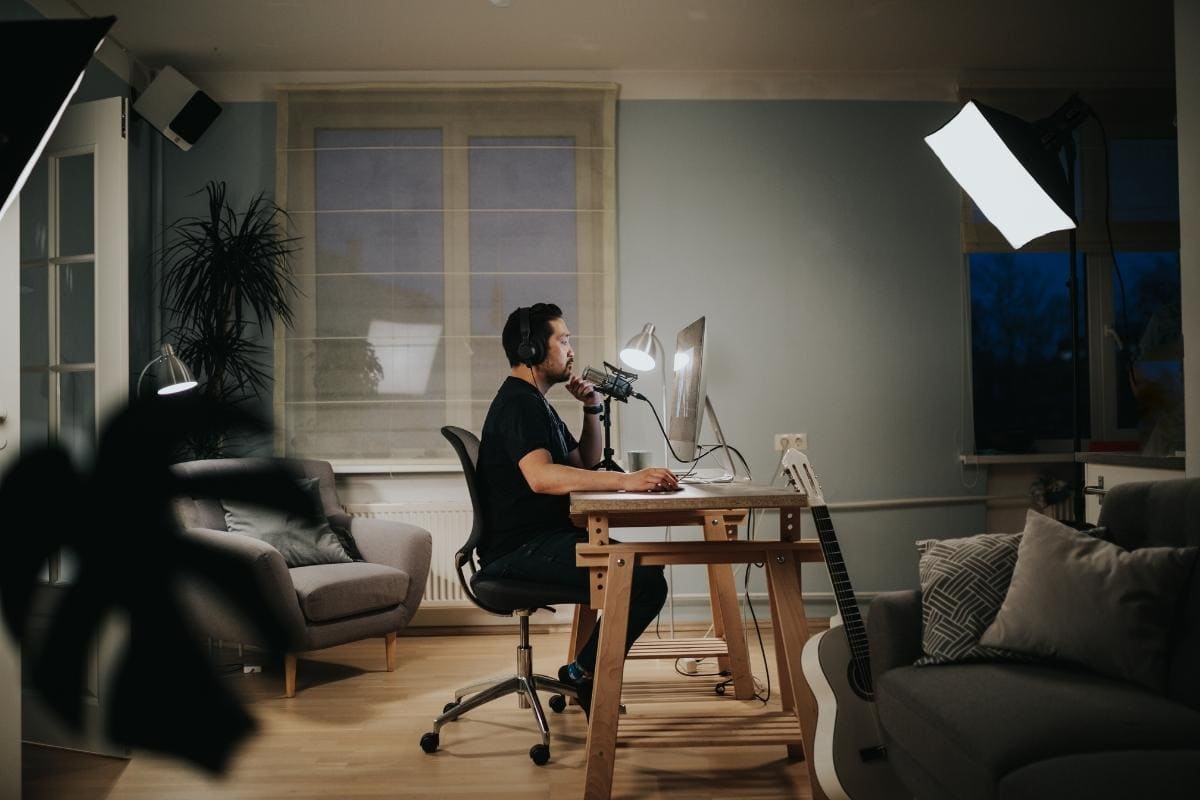 This can be used to highlight chosen features in a room while hiding less significant details. Feature lights work best when the light source itself remains hidden: your eye is naturally drawn to the brightest point within a room, and if the bulb or fitting were visible, this would be the focus. A recessed fitting which spotlights a picture or a narrow-beam works well. Low-voltage, miniature directional sources are the most versatile solution. You need to pay special attention to the position of the fittings and use the right beam width for the object being lit. To highlight a wall-mounted feature, the lights should be positioned between the viewer and the wall.
Color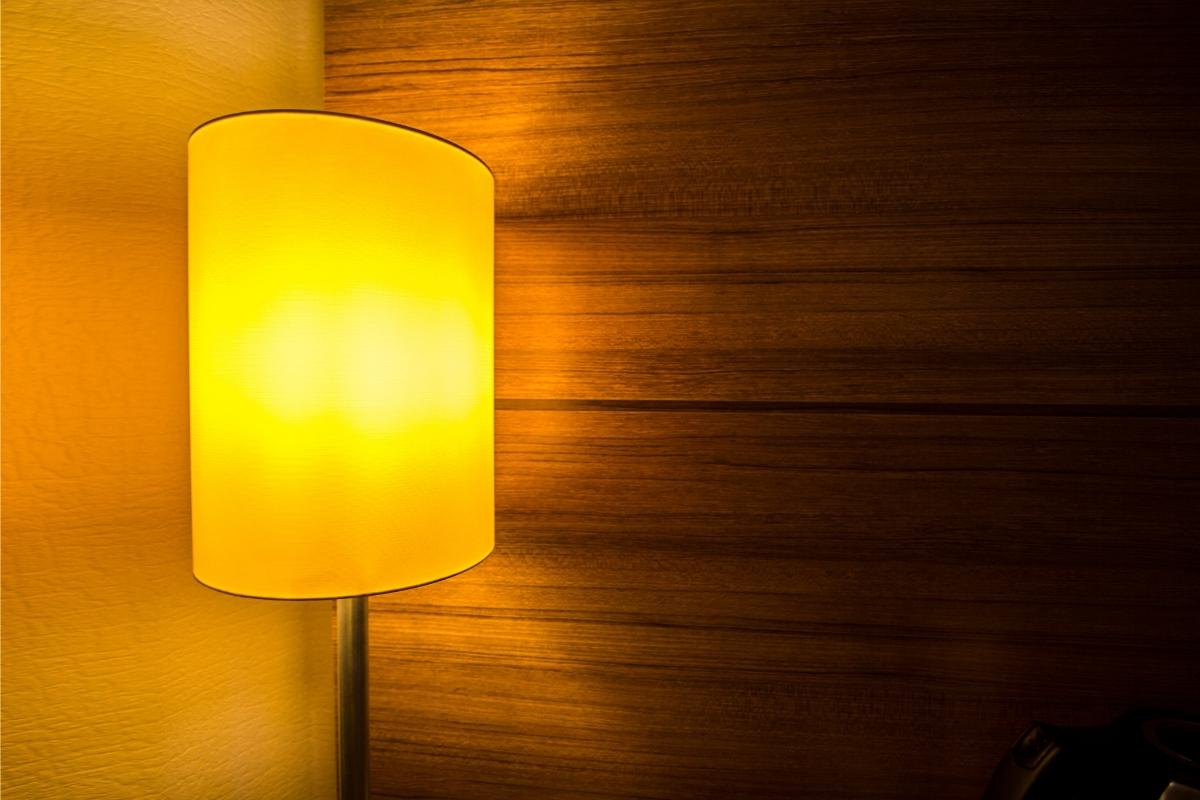 Rather than colored filters or a lamp as in photography, 'color' for the designer is the selection of a light source to emphasize the true color of what is being lit. Different light sources have different color temperatures. For example, a standard GLS (tungsten) bulb, a fluorescent, a low-voltage halogen, and a LED bulb each give out a very different light that is dependent on the color temperature. The easily-recognizable tungsten bulb has a soft, yellow light, which is warm and inviting at night, but can seem dull in the daytime. The crisp whiteness of halogen light, on the other hand, is far better when used in dark areas during the day, as it is more compatible with daylight. At night, though, it can seem cool, but when dimmed will achieve the same warmth as the standard GLS source.
Fluorescent or LED sources can be either cool or warm in color depending on the fixture selected. When buying lights, look for the particular code written on the packaging, which gives the color temperature. Different light sources can be combined within a scheme if they are controlled separately.
Controls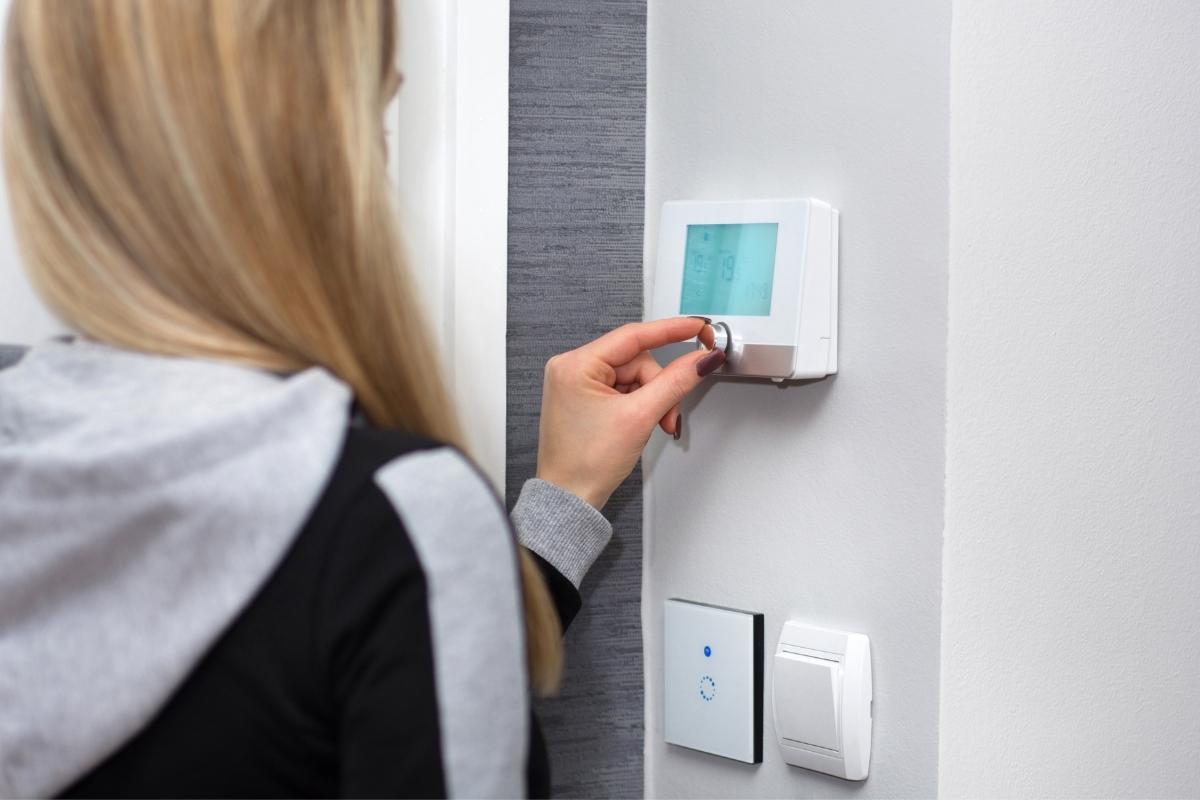 Every light needs a control, be it a standard single-pole light switch, 3-way switch, motion sensor switch, in-line dimmers & dimmer switches, or smart switches with remote controls via your home's ecosystem, voice or apps, they all provide a way of unique control to your home lighting. Consider the controls also along with the lighting. If it's fixed general lighting, a wall switch is usually the way to go. With smart home and remote control trending in younger generations, consider lighting which supports voice or app controls, especially for lights such as strip lights or bedroom lighting.
Lighting Plans and Checklists
Things to Do Before You Start:
Start by making a sketch plan of the room to scale, putting all the furniture and key pictures in position. Note that all the existing power points, as some of these could be re-used.
Think about the activities that will be taking place in the room and how much general lighting and task lighting they will require.
Decide which lighting sources and techniques to use for the general light and where they should be placed for the best effect. Note that a pale interior will reflect more light than a dark interior.
Make a note on the plan of the position of any feature lighting sources and what these sources will be. If using downlights to light an object on a wall, remember that the height of the ceiling will determine how far from the wall the fitting should be positioned.
Once you have established the various lighting types, it is useful to consider how they will be controlled. A good system will separately switch or dim each lighting element in a room.
Things to Consider When Undertaking a New Lighting Installation:
Ensure that you have enough sockets in the room. Ideally, use 5 amp sockets for any lamps and allow 13 amp sockets for a TV, stereo, computer, vacuum cleaner, etc. There is no need to double up; just select the appropriate socket for the appropriate place. Trailing flexes may cause accidents, so if possible, install floor sockets in the center of the room for greater flexibility when placing lamps next to seats or tables.
The positioning of all light fittings is crucial. Scorch marks can result if fittings, particularly uplights, are located too near the ceiling or flammable materials. The fitting usually has a minimum safe distance written within its installation instructions, but if not, you should consult the manufacturer.
Recessed uplights installed in floors can get very hot unless fiber optics are used (which are very expensive). The position of these uplights therefore needs to be considered carefully. Their use should be limited to feature lighting, which can be switched off if children or pets will be in the room.
If you want to install recessed downlights, check if there is a ceiling void and how deep this is. It is also important to know what the ceiling is made of, whether standard plasterboard or a mix of lathe and plaster, The fixing clips of any fixture will need to be checked to ensure they are compatible with the ceiling type.
Check if the ceiling void is full of insulation. If it is, clean it out around the position of the light to prevent overheating.
Check the local fire officer's requirements and establish whether a firebox is required over any of the fittings.
Check the position of switches for ease of use. If you are changing the way a door swings, remember to change the position of the switch.
For exterior installations, ensure that all cables are mounted well away from any areas that may need digging or regular mowing. If cables are located in the center of a garden, they should be a minimum of 450mm (18in) underground. Check that all equipment is weatherproof and suitable for exterior use.