One of the easiest and best ways to create ambiance for your home lighting is to use dimmer switches. By simply replacing your standard light switch and upgrading to a dimmer in a few minutes, you can easily adjust the intensity of your light, set scenes and create the right mood for having breakfast in the morning, watching tv in the evening, or going to bed at night.
We've reviewed and picked some of the best dimmer switches available on the market that should suit most needs. Here are our top picks and reviews for each dimmer.
Our Picks
Best Overall: Lutron Maestro LED+ Dimmer Switch | Single-Pole or Multi-Location
Our Pick
Best Overall Dimmer Switch
Lutron Maestro LED+ Dimmer is a versatile tap dimmer switch for all kinds of bulbs from halogen, CFLs to LEDs. It can be used in single pole, 3-way or up to 10 multi-location applications.
Lutron Maestro LED+ dimmer is one of the best multi-location dimmer switches on the market that can be used in single-pole or 3-Way, or up to 10 multi-location applications. Unlike regular 3-way dimmers which you can only have one dimmer in the circuit, Lutron Maestro LED+ dimmer allows users to dim the lights from all locations with Maestro companion dimmers MA-RR-XX.
Like other Lutron dimmers, Maestro LED+ has also been tested for flicker-free dimming with 1000s of bulbs and can provide up to 250 light levels for any activity. The Maestro LED+ can work with all bulb types, from dimmable LED/CFL bulbs up to 150W to Incandescent/Halogen bulbs up to 600W.
The tried and true tap switch+slide rocker elegant design, 10-60s fade-to-off option, and dimming range adjustment make Maestro LED+ one of the best dimmers for morden homes.
What We Like
User-friendly operation: one tap to last dimming setting, two taps to full-on and one tap to off
Top design fits seamless in every room
No neutral wire required
What We Don't Like
Some LEDs may not be turned completely OFF
Also Consider
Best Dimmer Sensor Switch
Lutron Maestro LED+ Motion Sensor Dimmer switch allows you to enjoy both dimming and occupancy/vacancy motion sensor for max energy-saving.
Best Rocker: Lutron Diva LED+ Dimmer Switch | Single-Pole or 3-Way
Our Pick
Best Rocker Dimmer Switch
Lutron Diva LED+ Dimmer is a universal dimmer for all kinds of bulbs from halogen, CFLs to LEDs. It can also be used as single pole or 3-way.
Lutron Diva LED+ (formerly C.L) dimmer is one of the best and most rated universal dimmer switches on the market. It has been tested for flicker-free dimming with 1000s of bulbs and can provide up to 250 light levels for any activity. The Diva LED+ can work with dimmable LED/CFL bulbs up to 150W or Incandescent/Halogen bulbs up to 600W.
The tried and true rocker+slider sleek design makes it the most convenient for users to turn the light ON/OFF and adjust dimming levels. Users can easily set the dimming range with an adjustment lever. Diva LED+ can work in either single pole and 3-way applications, making it the best choice for new installations and retrofit projects.
What We Like
UL listed dimmer to control mixed loads such as Halogen and LEDs on the same circuit
25 colors to match your decor
No neutral required
Single pole, 3 -way compatible
What We Don't Like
Only one dimmer can be installed in a 3-way circuit
Leading edge dimmer. Some prefer trailing edge for LEDs but it's not a deal-breaker because Diva doesn't cause flickering
Best Smart: Lutron Caseta Smart Home Dimmer Switch
Our Pick
Best Smart Dimmer Switch
Lutron Caseta smart dimmer switches are the ultimate smart & wireless wall dimmer switch solution for your home.
Lutron Caseta dimmer switch is the go-to choice when buying smart dimmers for your home. It can work with Amazon Alexa, Google Assistant, Apple HomeKit, IFTTT, Ring, and Samsung SmartThings. Lutron Caseta is also a universal dimmer that is compatible with all bulbs including 150W dimmable LED/CFL or 600W Incandescent.
Lutron Caseta uses Clear Connect RF wireless network and does not require Wifi, which is especially helpful if you do not have good wifi coverage in your house. Like all smart electronic devices, you can control and schedule everything on the Lutron App. Lutron Caseta simply makes your home's existing lighting smarter.
Most of the smart features such as voice controls, randomly turning the lights ON/OFF to look like you are home while you're away, or lights schedule requires a hub and Pico remote control. If this is the first time you buy Lutron Caseta dimmers and want to enjoy the fullest of its powerful features. You need to purchase a Lutron Smart Bridge or the Lutron Caseta Smart Kit.
What We Like
Almost perfect as a high-end smart dimmer
No neutral required makes Caseta suitable for any house
What We Don't Like
A little pricey
Hub/Bridge is required for most of the smart features
Best Wi-Fi: Kasa Smart Dimmer Switch HS220
Our Pick
Best Wi-Fi Dimmer Switch
Kasa smart dimmer is basic and affordable, yet it can satisfy all your essential needs of a smart dimmer.
Kasa Smart Dimmer Switch HS220 is a cost-friendly smart switch that works with Amazon Alexa, Google Assistant, and Microsoft Cortana supported devices for a hands-free experience and allow users to set schedules and select scene via the Kasa smart app. Kasa smart dimmer switch connects via 2.4GHz Wi-Fi and does not require a hub.
Being one of the most budget picks as well as the most rated smart dimmer, Kasa HS220 provides all the basic and essential features that you need, such as gentle fade-off lighting and compatibility for most all bulbs. While Kasa is only single pole and can only dim one light, it can still fully meet the ordinary dimming requirement for most people.
The Kasa Smart Motion Sensor Dimmer Switch is also a considerable choice if you happen to be a big fan of motion sensor light switches as well.
What We Like
Inexpensive
UL certified
No Hub required
What We Don't Like
Can only control one bulb
Also Consider
Upgraded WiFi Dimmer Switch
Leviton Decora Smart Wi-Fi Dimmer can be an upgrade pick if you have many lights to control, and it also supports Wire-Free 3-Way installation.
Best Plug-In: Lutron Credenza LED+ Plug-In Lamp Dimmer Switch
Our Pick
Best Plug In Dimmer Switch
The Lutron Credenza plug-in lamp dimmer works with all types of bulbs. Just plug in and use.
The Lutron Credenza plug-in lamp dimmer works with all bulbs and you only need to plug in, and no wiring is required. It can control up to 100W of most dimmable LED/CFL bulbs and up to 250W of incandescent/halogen bulbs.
Simply slide to turn the light on/off or up to brighten and down to dim the light. For most lamps, the wired controller is enough and very handy to use.
What We Like
Good price
Perfectly works as advertised
What We Don't Like
Also Good
Remote Plug In Dimmer Switch
If you enjoy controlling your lamps via wireless remote control, this Treatlife Plug-in lamp dimmer switch is what you need.
Dimmer Switch Buying Guide
Dimmers are one of the most popular lighting controls in home lighting. They can smoothly control the output intensity of your light from bright to dim to help create a fantastic atmosphere and reduce energy costs. For many people, a dimmer switch is a standard fixture in their home, but if you're looking to make an upgrade to your wall switch, you may be wondering which type of dimmer switch is best for you. Let's take a look at the complete dimmer switch buying guide below and find out.
What Is a Dimmer Switch
A dimmer switch is a lighting control device that allows users to adjust the brightness or of the light. When connected to a light fixture, users can increase or decrease the intensity of the light's output on the dimmer switch with a rotary knob, slide, or via smartphone apps. Many homeowners install dimmer switches to control their lighting to create a better mood and atmosphere with dimmed lighting and further save money on their utility bills.
Why Use a Dimmer Switch
The first question to ask before using a dimmer switch is always: why use it and what are the benefits? Some of the popular uses and major benefits of dimmers switches are:
Create Lighting Ambience for a Better Mood
A dimmer switch can warm the overall color in a room and set a mood of relaxation. A dimmer control can be preset for many different situations, from intimate conversations to family game nights. By using a dimmer, you can easily change the lighting ambiance for different activities.
Adapt Lighting in Multipurpose Rooms
A light dimmer can be used to lower the light level in a room for movies and keep the light to full brightness for a children's playroom. A dimmer switch can also provide bright light in the bath for makeup touch-ups and relaxing low light for soaking in the tub.
Similarly, in offices, dimmer switches are helpful in conference rooms to lower the level of brightness, optimal for meetings and presentations.
Enhance Atmosphere and Add Versatility
A dimmer switch can lower the lights for intimate parties or raise the light level around the perimeter of a room to encourage mingling. A dimmer in a dining room can enhance the atmosphere of an important dinner party and, the next day, highlight a charity luncheon buffet, and using a light dimmer in a child's bedroom lets them fall back to sleep easier in a low light atmosphere. Dimmer switches can add much versatility to all your rooms. For those who are not morning people, a dimmer in the bedroom or bath lets the day begin gradually with soft lighting.
Add Drama to Your Home
A light dimmer switch can lower room lights to highlight a favorite painting, art, sculpture, or landscape with accent lighting and add drama to your home for the perfect mood. Remote controls for light dimmers allow fingertip control of lighting throughout a room or entire house.
Boost Productivity
Needlessly to say, many people enjoy working in a dark environment, with lights turned off and dark theme apps turned on, especially for computer based works. Dimmers can help boost productivity for these people and reduce the glare at your screens. A dimmer switch can give them the flexibility to adjust the level of brightness to best fit their demand instead of a simple ON or OFF status, either too bright or too dark, from a regular wall switch.
For Additional Safety and Security
Illumination is a crucial factor for the safety and security of your family members. Using a light dimmer switch to lower the light in a bathroom, kitchen, nursery, or near stairs as a night light without being too bright, or increasing the light level to create a path for safe access from the entrance door to the bedroom when a family member arrives home, can all be beneficial to your home's safety.
Extends the Bulb Life
Dimmer switches can extend the life of your bulb at a low light setting. It would be a solid reason to use a dimmer switch to keep your bulbs working much longer without the need to frequently replace them. Moreover, you can save the cost of replacing an expensive three-way light bulb for the similar effect of achieving levels of brightness with a dimmer.
How will dimmer affect the bulb life?
For incandescent and halogen lamps that glow by heating the tungsten filament, dimming incandescent and halogen lamps will significantly increase the bulb life. As heat is the main reason that decreases the bulb's lifespan, with less heat generated when dimmed, their life can extend multiple times longer.
For LEDs and fluorescent bulbs, their bulb life is unaffected by dimming and dimmers do not increase their lifespan by theory. But dimming can still help extend their lifespan a bit because the electronic components can work longer with less heat produced when dimmed.
Save Electricity and Reduce Energy Costs
Dimmer switches can reduce energy costs and help homeowners save their electricity bills. Dimmers lower the output of the light by reducing the electricity that powers the bulb. The dimmer your light is, the less electricity is consumed, and the more money and energy you can save.
Tests by Lutron show that dimming an incandescent light bulb by 10% can save 10% electricity and extends its life span two times longer, and dimming at 75% can save 60% electricity and extends its life more than 20 times longer.
While for fluorescent and LED lights that do not use filament and produce much less heat as wasted energy, dimmer switches can save the exact same amount of energy by how much you dim the light. For example, you can save 75% electricity with the light dimmed at 25% brightness.
How Does a Dimmer Switch Work
Early and old dimmer switches simply use a variable resistor to dim the lights. By altering the dimmer, the increased resistor will result in a decreased voltage to reduce the output of the light. The problem is that the resistor also consumes a lot of energy, resulting in a voltage drop and decreasing the output to other loads in the same circuit. At the same time, the resistor still wastes a massive amount of electricity in the form of heat. In the end, it still costs you money and doesn't save energy. The old dimmer switch is inefficient and potentially dangerous to use due to the heat it releases.
Modern line voltage dimmer switches are more efficient in reducing the intensity of the output of the light. They use a semiconductor to quickly chop off(trimming) part of the AC voltage waveform 120 times per second to reduce the flow of electrical current to the light bulb. The brightness of the light depends on the power passed to the bulb: the more it chops off the voltage, the less electricity passes through the bulb, and the more the light dims.
Put another way, the dimmer switch rapidly turns the light on and off many times every second. The longer the light is off, the lower output is transferred to the bulb, the more it dims. As the on and off are switched so rapidly, human eyes cannot notice any difference or see flickering, and it does not affect the quality of the light's output. Quickly turning the light on and off also does not affect the bulb's lifespan at all.
Depending on how the voltage waveform is trimmed, there are mainly two types of phase-cut dimmer switches: the leading-edge and trailing-edge.
Leading Edge
Leading edge dimming cuts off the front edge of each sine wave's half circle and uses a semiconductor device called TRIAC(Triode for Alternating Current) for phase cutting.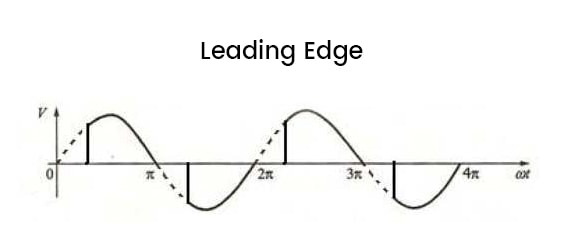 A TRIAC acts as a high-speed switch that turns the lights on and off 120 times a second, controlling both positive and negative half cycles. As leading edge dimming cuts the front edge of every half circle, it will result in a rush of current to the light source, which is not suitable for LED and CFL bulbs and might cause flickering or buzzing. Additionally, for the TRIAC to work and control the power, a leading edge dimmer also has a high minimal load, which makes them less compatible with low-energy lighting like LEDs and CFLs.
For the reasons above, leading edge dimmers are generally not suitable for dimming LED lights. But certain types of leading edge dimmers do work well with CFL and LED loads. Before you buy a dimmer, pay attention to the instruction of your bulb and see what type of dimmer it is compatible with.
Conversely, leading edge dimmers work well with incandescent bulbs and will not cause them to flicker because the hot filament does not cool down instantly, and the rush of voltage does not affect the bulb at all.
Leading edge dimmers are typically used to control resistive loads such as older incandescent or halogen light sources and inductive loads such as magnetic low voltage(MLV) transformers. Due to TRIAC's ability to switch high levels of voltage and current, TRIAC dimmers are also ideal for handling high AC voltage, controlling fans and motors speed, and other AC control applications. Modern TRIAC dimmers have also developed and can handle dimming for LED lights as well.
To summarize, a leading edge dimmer is also referred to as a forward phase dimmer, MLV dimmer or TRIAC dimmer and has been the most common and traditional dimming method.
Trailing Edge
Trailing edge dimming cuts off the end edge of each sine wave's half circle and they use more sophisticated electronic systems like MOSFET's and IGBT's semiconductors for phase cutting. Most trailing edge dimmers would require a neutral wire that allows the dimmer to draw power and perform well on low wattage range.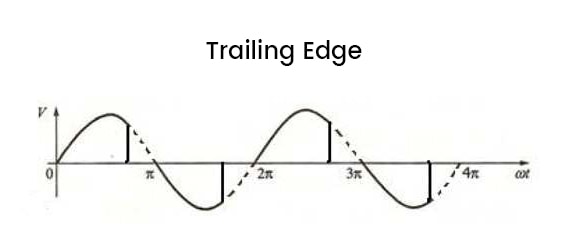 As the electrical current is cut off at the end of the AC input waveform, trialing edge dimmer will not cause a rush of voltage and can provide smooth dimming with nearly no buzzing sound. Compared to leading edge dimmers, trailing edge dimmers have a lower minimum load that can handle low-energy bulbs like LEDs. All these features make trailing edge dimmers ideal for dimming LED lights. Besides, trailing edge dimmers can also be used to dim traditional incandescent light bulbs and they can be more effective than leading-edge dimmers.
Trailing edge dimmers are typically used to control capacitive loads such as electronic low voltage(ELV) transformers, electronic drivers and LEDs. Trailing edge dimmer switches are also more complex and expensive than leading edge dimmers. A trailing edge dimmer is also referred to as a reverse phase dimmer, ELV dimmer, or electronic dimmer.
Though trailing edge dimmers work best with LED lights. Some LEDs are made to be compatible with both leading edge and trailing edge dimmers, such as retrofit LEDs that are made to be installed on existing incandescent dimmers. But if you have a choice, choose a trailing edge dimmer for better performance.
Dimmer Switch Features
Here are some common features you usually see on a dimmer switch
Scheduling
Light scheduling allows users to set schedules and make their lights automatically turn on and off at a certain time of day based on their daily routine. Scheduling automates your home lighting by keeping the light on while you're home and off while you are away.
Scenes
Most smart dimmer switches allow you to set and select scenes. For example, you can set scenes specifically for when you wake up or go to bed.
Away Mode
Away mode will automatically turn your lights on and off randomly to make it look like you're home while you are away. Away mode makes your home safer by making it looks like being occupied so intruders may give up on your house.
Voice Control
This allows you to control your dimmer by voice and connect it with popular smart home ecosystems like Amazon Alexa and Google Assistant.
Fade to Off
The fade-to-off feature allows the light to gently fade off without bumping into dark. Fade-off lighting can help you to enter sleep smoothly.
Types of Dimmer Switches
There are various types of dimmer switches on the market that are compatible with different kinds of light bulbs and use cases.
It's also important to note that you can not put a dimmer switch on any light. The light bulb you use should be dimmable in the first place. When you use a non-dimmable light bulb on a dimmer switch, especially LEDs, the light might flicker, buzz, not work properly, or simply just run at full brightness and may get damaged. It's fine to use a dimmable light bulb with a regular switch. The dimmable light bulb will work like a normal light at its full capacity. It just won't dim. Most of the time, a smart bulb does not work with a dimmer switch, so avoid using them together.
Know whether your light bulb is dimmable before you put it into use. You can usually see a dimmable symbol on the package or on the bulb.
Incandescent and Halogen Dimmer
Incandescent/Halogen dimmers are the most traditional and classic dimmers designed to control line voltage incandescent and halogen bulbs. Incandescent dimmers are mostly leading edge triac dimmers that are not suitable for controlling CFL or LED bulbs, which might result in limited performance, such as flickering or buzzing. For the best flexibility, manufacturers now make newer LED bulbs that work well with leading edge dimmers as well, so look at your bulbs' package before you purchase the dimmer.
Incandescent dimmers usually have a large 0-100% dimming range that allows users to adjust the light output at 100% full brightness and dim all the way down to 0%. Nearly all incandescent bulbs are dimmable because they produce light by heating up the filament and the more electricity you provide, the brighter it can be. For the same reason, incandescent bulbs can work well with most types of dimmer switches on the market, not only limited to a leading edge one.
Fluorescent Dimmer
Fluorescent dimmers are designed to control fluorescent bulbs and dimming ballasts.
CFL Dimmer
CFL(Compact Fluorescent Lamp) dimmers are designed to control dimmable CFL bulbs. When using dimmers for CFL bulbs, do make sure the bulb is dimmable as most standard CFL bulbs are non-dimmable. Check the package of the bulb for any dimmable symbol or it indicates dimmable somewhere.
Some CFL dimmers are also compatible with other bulb types such as incandescent and LED bulbs. For example, the well-known Lutron LED + dimmer (formally known as C•L dimmer) is compatible with both LED and dimmable CFL bulbs, as well as incandescent and halogen bulbs. Lutron LED + dimmers can also provide full-range dimming, while some CFLs will only dim down to about 10-40% before it turns off completely.
LED Dimmer
LED dimmers are special electronic dimmers that are designed to control dimmable LEDs, especially the electronic drivers. Traditional incandescent dimmers do not work properly with most LEDs and may have compatibility issues due to the high minimal load and lack of smooth voltage. A LED dimmer would usually specify it's for LEDs and show its load range on the package. If not, you might need to consider the dimmer is non-LED compatible.
Most LED dimmers are trailing edge electronic dimmers with a lower wattage range and smooth start-up, making them highly compatible with the LEDs. Anyway, some LEDs prefer leading edge dimmers while some prefer trailing edge dimmers. And manufacturers have also come up with LEDs that work equally well with both dimmers for easy retrofit as LEDs are getting extremely popular.
When dimming LEDs, it's essential to use a dimmable LED bulb or you might get limited performance. If you use a non-dimmable bulb, it might work at its 100% output, won't dim properly, or doesn't work at all.
Most common dimmable LED and CFL bulbs have a smaller dimming range that they can not dim below 10% of their full capacity, usually as low as 30%, compared to incandescent bulbs which are 0% to 100% dimmable. Certain high-end LED dimmers and bulbs allow full-range dimming that allows the LED to dim as low as to 0%.
MLV Dimmer
MLV dimmers are leading edge dimmers designed to control MLV lighting that uses a magnetic low voltage(MLV) transformer in their lighting systems. The transformer is to reduce the voltage and increase the current to make lights more effective.
MLV transformers are a bit heavy and large containing a couple of coils. You can find MLV transformers used in recessed lights, under cabinet lights, older chandeliers or some led strip lights with a large MLV transformer.
ELV Dimmer
ELV dimmers are designed to control ELV lighting that uses an electronic low voltage(ELV) transformer in their lighting systems. ELV dimmers are trailing edge dimmers with smooth on that make them suitable for LEDs and require a neutral wire for installation. They are also the standard for dimming LED lighting as LED is also electronic low voltage.
ELV transformers are smaller and slimmer than MLV transformers so they are much more convenient to use and can be mounted on track lights. You can find ELV transformers used in low voltage fixtures like LEDs, ELV track lighting, under cabinet lighting, and LED strips.
0-10V Dimmer
0-10V dimmers are designed to dim 0-10V lighting control, one of the first and simplest electronic lighting control systems commonly used to control fluorescent dimming ballasts and many drivers for LED lighting.
0-10V dimming applies a DC voltage that can vary from 0V to 10V and smoothly scale the light intensity levels from 100% full brightness at 10V to its minimal light level(typically down to 10%, more LEDs can be dimmed to 0%) at 0V. 0-10V dimming can provide very accurate dimming control that can even output to 0.1% light level compared to mains dimming. It is commonly used in indoor and outdoor lighting in residential and commercial spaces.
0-10V dimmer is analog dimming, distinguishing itself from TRIAC mains dimming that it requires additional low voltage wiring for adding two additional 0-10v interfaces to the 0-10V power supply. This way, the 0-10V dimmer is safer and more effective to use and can handle thousands of watts on a single dimmer.
Universal Dimmer
Universal dimmers are designed to work with all incandescent, halogen, dimmable LED, and dimmable CFL bulbs. Some universal dimmers also have a microcontroller that allows users to switch the dimmer between leading edge and trailing edge types for the best performance. Some universal dimmers are also designed for controlling MLV and ELV loads.
Smart Dimmer
Smart dimmers are more or less universal dimmers with extra smart features, such as voice and remote app control, scheduling, and ecosystem integration for Alexa and Google.
Other Types
Dual Dimmer Switch
A dual dimmer switch has two dimmer switches stacked in one standard switch size and can control two separate loads at the same time. The dual dimmer switch is usually used for controlling light and fan combination or two separate light sources.
Ceiling Fan Dimmer Switch
One classic dual dimmer application is the ceiling fan dimmer switch, which usually comes in the form of a stacked dimmer switch with one for dimming lights and one for controlling fan speed.
You cannot simply use a regular dimmer switch to control the fan speed as there are types of motors and each requires different dimmers, or it might cause the fan to make noise or overheat and end up in a fire. Always look for a dimmer switch labeled for fan control.
Motion Sensor Dimmer Switch
A motion sensor dimmer switch combines a motion sensor and dimmer in one switch. These innovative dimming sensors maximize energy saving and provide the convenience of a motion sensor light switch simultaneously.
Plug-in Dimmer
Plug-in dimmers are a kind of inline light dimmer that you simply plug in and use. You can adjust the brightness of light by a wired dimmer controller extended from the cord. You can also control the brightness via phone apps if it's a wireless dimmer plug. There are also lamp dimmer sockets, a similar form of plug-in dimmers that you can directly install the bulb and use.
Outdoor Dimmer
Most outdoor dimmers are mostly waterproof plug-in dimmers that are specially made for outdoor use to resist weather conditions.
Wiring Options
Dimmer switches are flexible in wiring options and the common varieties are single pole, 3-way, and wireless dimmers.
Single Pole Dimmer Switch
The single pole dimmer switch is the standard dimmer switch that can control light(s) from one location. It can dim and control all the lights on the same circuits with the dimmer.
3 Way Dimmer Switch
A 3-way dimmer switch can control a light or lights in the same circuit from two locations. You can put a 3-way dimmer at either location where users can control the light ON/OFF, dim the lights and install a regular 3-way switch at the other location where users can turn on the ON/OFF.
You cannot use two regular 3-way dimmer switches at both locations. But there are special compansion or accessory dimmers, or "master" and "slave" dimmers, that allow users to dim the light from two locations, but you need to use compatible dimmers with the right setups.
It's also possible to use a 3-way dimmer in a single pole application with one of the traveler wires capped off with a wire connector. That's why you see many of the dimmer switches are labeled single-pole/3-way compatible.
Multi-Location Dimmer Switch
A multi-location dimmer switch allows users to control lights from one or more locations, for instance, being used as a 4-way dimmer switch. Multi-location dimmer switches are designed for larger areas or rooms, with the main dimmer at one location and the companion/accessory dimmers in other locations, so users can switch the lights ON/OFF and adjust the brightness level from all locations.
2 Wire Dimmer Switch / No Neutral
A 2 wire dimmer does not require a neutral wire for installation. It's usually used in old houses that do not have a neutral wire in their wall box. A 2 wire dimmer is also known as a "no neutral required" dimmer. However, it still requires a ground wire to work.
3 Wire Dimmer Switch / Neutral Required
A 3 wire dimmer is the standard dimmer nowadays. It can draw power from the neutral wire even when the light is dimmed or off. It requires a neutral wire to work and is also known as a "neutral required" dimmer.
Wireless Dimmer Switch
A wireless dimmer switch, also known as a remote dimmer switch, allow users to remotely control the light. Most wireless dimmers are still hardwired and installed in the wall box because they need to control the power to the fixture. Users control the light by voice or apps. Some wireless dimmers, more of a remote control, are battery-powered and do not require wiring or installation, such as Philips Hue wireless dimmer switch.
Most wireless dimmer switches use Wi-Fi, Z-Wave, or Zigbee technologies for connection. Wi-Fi connection would require internet, while Z-wave and Zigbee would require a separate hub for connecting with dimmers.
Types of Control
When it comes to the control styles of dimmer switches, there are multiple options available, from the old-fashioned rotary, slide dimmer to modern tap or rocker styles.
As more people tend to control their lighting via voice control, phone app or remote control, the physical interaction with the dimmer is becoming less needed. The aesthetic style of the switch and how it matches your home decor are becoming more important.
These are the common types of control styles for dimmer switches.
Rotary Dimmer Switch
A rotary dimmer has a round knob that allows users to alter the light level by dialing the knob. Some rotary dimmers require twisting the knob all the way down to turn off the light while most rotary dimmers act like a push button switch that users need to push the knob to turn the light on or off. Once the light is ON, you can adjust the intensity of output by rotating the knob.
Slide Dimmer Switch
A slide dimmer switch utilizes a slide bar for users to adjust the intensity of light by sliding it up or down. Most slide dimmer switches also include an on/off switch beside the slide bar, allowing users to turn off the light completely. The ON/OFF switch is usually a rocker switch, tap switch, or toggle switch.
Some slide dimmer switches allow users to turn the light on or off by sliding the lever all the way up or down, known as slide-to-off dimmers, so they do not require an additional ON/OFF switch. One drawback of slide-to-off dimmers is that you need re-adjust the dimming level every time you turn it on.
Slide dimmers match great with modern decora switches. You can usually find a small ancillary slide dimmer located beside the main button. Slide dimmers are very easy and intuitive to use, and they perfectly balance aesthetics and functionalities at the same time.
Toggle Dimmer Switch
A toggle dimmer switch allows users to turn the switch ON/OFF by flipping the lever up and down. The toggle dimmer is usually referred to as the toggle ON/OFF switch, not the dimmer. To actually dim the light, you need to move up and down the slide dimmer next to the toggle.
While most toggle dimmer switches are toggle style ON/OFF switches with slide dimmer, some toggle dimmer switches do allow users to dim the light by directly moving the toggles up and down and do not come with an extra slide bar.
Rocker Dimmer Switch
A rocker dimmer switch utilizes a large, flat paddle button that allows users to turn ON/OFF the light by simply pressing the panel to rock it back and forth. Rocker dimmer switches are modern-looking and can easily fit in with your home design. You can find most of the smart dimmer switches are rocker style. Similar to a toggle dimmer, the rocker is for the ON/OFF switch and the slide bar beside is for dimming the light.
Tap Dimmer Switch
A tap dimmer switch has a large rectangular push button allowing users to tap to turn the light on and off. A secondary auxiliary dimmer next to the tap is for adjusting the brightness, usually a slide or a thin rocker button. Rocker-style auxiliary dimmers look better with tap dimmer switches as they look streamlined when put together. Because users cannot easily tell the current status from a tap dimmer switch with rocker slide, they will usually include indicator lights to display more details.
A large number of modern smart dimmer switches come in tap dimmer style. They look better along with decora switches and most functions can be achieved remotely via voice control or phone app.
Miscellaneous
Dimmer switches have many forms serving different purposes. They can be a touch dimmer made of touch-sensitive glass, a scene selector dimmer allowing users to quickly select layered lighting, or any other styles you can possibly find on the market.
How Many Lights on One Dimmer
When using a dimmer switch to control multiple lights, it's important that you don't extend to its maximum load range or it might cause flickering or failures.
Nowadays, most dimmer switches will specify the wattage capacity for each type of bulb. All you need to do is simple math. For example, one of the most common watt capacities you can find on the market is being rated 150 watts for LED/CFL and 600 watts for incandescent/Halogen bulbs, which means it can handle 15 x 10W LEDs or 6 x 100W incandescent bulbs. When you use LED in conjunction with incandescent bulbs, you need to specifically look for the rating for mixed load types in the user manual of your switch. If your dimmer switch does not support mixed loads, do not use it for controlling LED and incandescent bulbs on the same circuit.
For some dimmers that have a minimum/maximum load such as being rated 100W-400W, it's also important to have the load on the circuit exceed the minimum load to make it work properly with LED bulbs.
If the dimmer only specifies one rating, for example 400W, which is usually for incandescent bulbs, a rule of thumb commonly used to calculate the load range for LEDs(if supported) is to divide it by 10. In this case, it can handle up to 40W LEDs. Checking the minimum and maximum load range is another good way to tell if the dimmer is compatible with your LED bulbs.
Frequently Asked Questions
How to Make Sure Light Bulbs Dim Properly
First, make sure your bulb is dimmable. Using a dimmer switch with a non-dimmable bulb will result in inconsistent dimming effects and eventually damage the bulb. Read the package or description of the bulb to see if it states dimmable or shows a dimmable icon.
Second, make sure your dimmable bulb is compatible with the dimmer switch. Look at the bulb's package, and check what kind of dimmer switch it requires. Does it require a trailing edge or a leading edge dimmer? Or you can simply get a universal dimmer switch that can work with any type of bulb.
If you are using low voltage bulbs with external drivers or transformers, make sure to use a compatible ELV/MLV dimmer switch instead of a normal mains dimmer.
What Happens if You Put a Non Dimmable Led Bulb in a Dimmer
When you use a non dimmable LED bulb with a dimmer, the light might start to flicker or buzz. Most of the time the LED light will not work properly or simply won't dim and run at full brightness. The dimmer may eventually damage the bulb.
Can Smart Bulbs Be Used With a Dimmer Switch
Smart bulbs usually do not work with a dimmer switch because smart bulbs have their own built-in electronics for controlling the bulb's brightness level. Using a dimmer switch may reduce the input voltage and cause the smart bulb to fail or flicker because of the conflict.
Why Are Led Lights Flickering on a Dimmer
LEDs are more sensitive to electrical fluctuations so that most of the time you will find only LED bulbs will flicker. There can be several reasons why your led lights are flickering when used with a dimmer switch. It can be either loose wiring, a bad blub or fixture, or an incompatible dimmer switch.
Loose Wiring, Bad Bulb or Fixture
When the wiring or the connection between the bulb, fixture, and dimmer is loose or faulty, the inconsistent current may cause your LED to flicker. There are also chances that the led bulbs or the fixture themselves are low-quality or damaged, so they tend to flicker even without a dimmer.
Dimmer Is Not Compatible With the Bulb
Many leading edge dimmer switches are not compatible with low voltage LED lights. If you are using an old dimmer switch or a dimmer switch for controlling incandescent/halogen bulbs, it's possible that it's a leading-edge dimmer. Leading edge dimmers use a triac which requires a high minimum load for the dimmer to function properly. They can handle a higher load without a problem but have difficulty working with low voltage loads. Led bulbs are low voltage that cannot meet the minimum voltage required to keep the triac operating and might end up flickering. To solve the problem, use a trailing edge dimmer or a leading edge dimmer that specifies LED compatible.
If you are using ELV, MLV lights, you'll need ELV or MLV dimmers to work with the electronic/magnetic drivers. A mains dimmer switch is not compatible and might cause them to flicker.
Dimmer Is Overloaded
When you use a dimmer switch to control too many lights, you are probably overloading your dimmer, and it will cause flickering. Every dimmer switch has its wattage rating. And make sure the lights you put on a dimmer do not extend its limit.
Why Do Dimmer Switches Buzz
It's natural for a dimmer switch to buzz or hum slightly. The buzzing sound from the dimmer switch is caused by the electromagnetic field when the dimmer is rapidly switching the light on and off. Usually, the buzz sound is loudest at 50% dimming level. If you hear a slight buzzing sound or humming from your dimmer switch, it's totally normal and not dangerous.
Overloading might also cause the dimmer to buzz louder than usual and it can be dangerous. Make sure you are not overloading the dimmer and reduce the number of lights.
Why Do Light Fixtures Buzz With a Dimmer
The light fixtures may buzz when used with a dimmer. An incandescent lamp may buzz because the physical vibrations of the filament may cause a buzzing sound when dimmed. Fluorescent bulbs naturally buzz to some degree because of the ballast. LED may buzz due to electromagnetic interference from the dimmer switch.
To reduce the buzzing from your lamp, either upgrade your bulbs or dimmer switch to a better quality one.
Are Dimmer Switches Supposed to Get Hot
Yes, dimmer switches are supposed to get warm to touch during normal operation because the dimming process consumes some power and is dissipated as heat. The closer the dimmer runs at full capacity, the warmer it gets. UL states that dimmer switches are safe when operating below 195 F, so it's perfectly fine for a dimmer switch to get warm when operating.
Additionally, some dimmer switches have a design with spare space to release the heat, and when dimmers are ganged together in a multi-gang wall box, they need to be derated for safety and less heat released.
But when the dimmer switch gets hot, it can be dangerous and cause a fire, for example, when overloaded with too many lights. Check the dimmer's wattage rating and the loaded wattage to ensure it's not overloaded.
Can You Install a Dimmer Switch on Any Outlet
No, you should not use a dimmer switch to control outlets and receptacles. Electrical codes suggest dimmer switches should only be used to control permanently installed lighting fixtures. If you use a dimmer for an outlet, you don't know what appliance is plugged into the receptacle and whether the dimmer is compatible with the load or rating. It might get overheated, short circuit, and cause a fire.